We both have a fascination for the American Craftsman style homes (a.k.a Arts and Crafts), to include mission style furniture, which was popularly associated with the American Arts and Crafts movement. Segue go! Not only do we enjoy the television show Grimm, but the American Craftsman architecture found throughout the homes. Segue done! It just so happens that the homestead at the Lazy B is considered a craftsman style bungalow.
The homestead was in dire need of a new roof; and while we were at it, we decided to redo and expand the existing dormer, which at the current time was just attic space. So in October 2007, Brian with the assistance and oversight of his brother Clinton (owner of Berry Construction) began their endeavor.
As seen in the following photograph, the roof was lacking a few shingles; and it's hard to tell, but the "recessed dormer" doors had several broken panes and an unsafe small roof deck.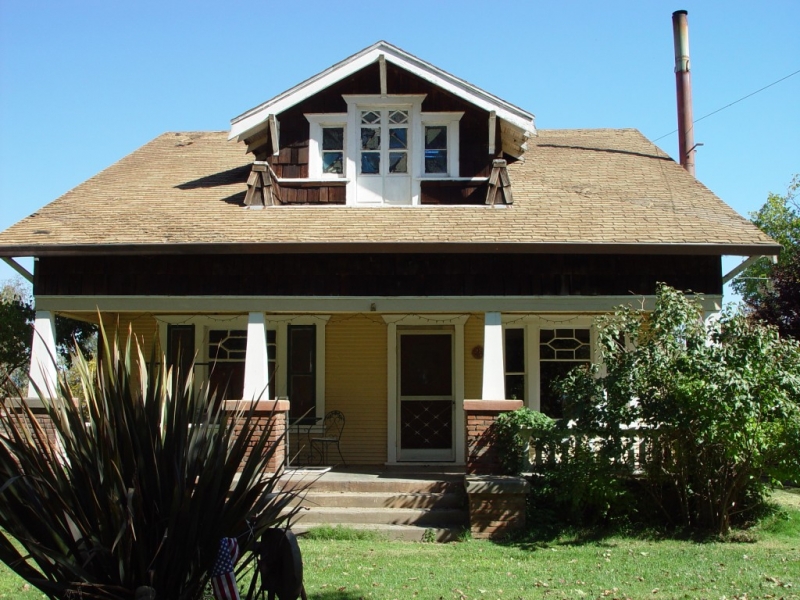 First, they removed at least two layers of shingles, tar paper, and the skip sheathing (commonly found on roofs that had shake shingles). In addition, restored all the eaves by removing the knee braces and completely replacing all the eaves and fascia.
One side of the roof was accomplished at a time due to potential inclement weather. As seen in the following photo, even the prudent had to implement tarps at times.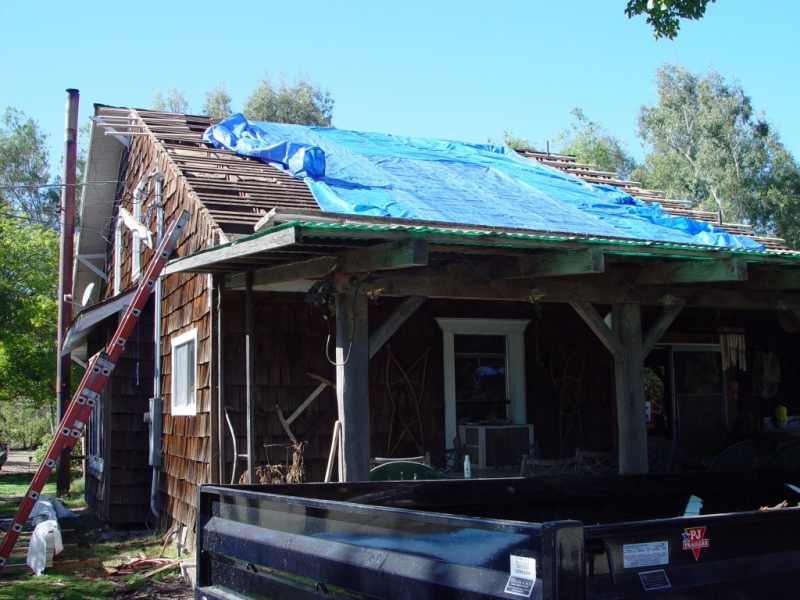 One of the most recognizable characteristics of the craftsman style are exposed roof rafters and rafter tails; we decided to add fascia (to protect the rafter tails) and leave the roof rafters "au naturel" with no soffits.
As you can see with the current pictures, we lost the craftsman charm by not replacing the knee braces; this is a future must.  We saved the old ones so we could use them as a template.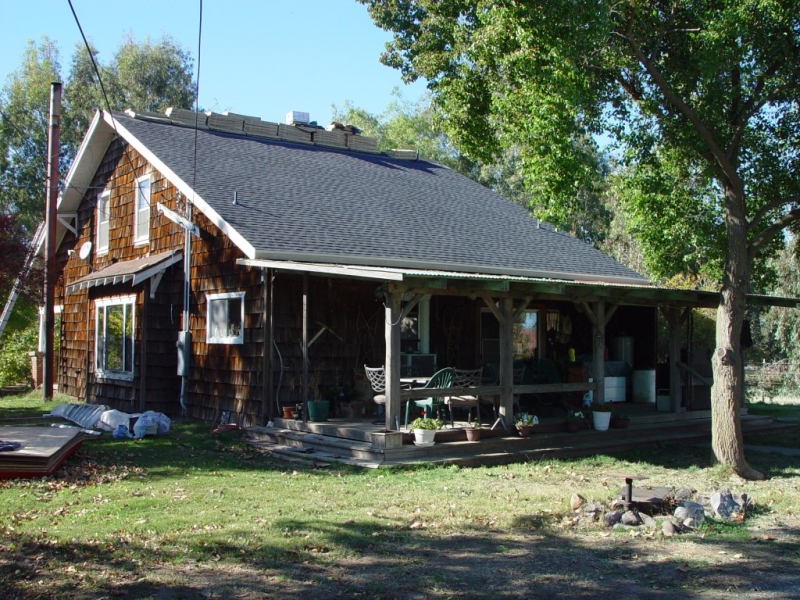 We made the decision to change the dormer from recessed to a "gable dormer", which added space to the upstairs.  Our plans are to move the master bedroom from downstairs to upstairs; converting it into a master bedroom suite.
I almost forgot about the "bay" roof of the formal dining room.

The final product!
Also take note they removed the chimney from an old 55-gallon drum wood-burning stove.  The wood-burning stove was replaced back in the mid 90s with a pellet stove; and hence, the chimney with an unobtrusive sidewall horizontal vent.
It's been over 6 years since the "New Roof, New Dormer" … so unfortunately, I'm unable to provide a detailed list of materials.  Some of the materials include:   asphalt shingles (black), plywood, felt, roofing nails, flashing.  The cost was approximately $15,000.